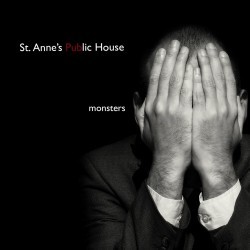 Monsters: Fierce and Fantastic
AD 2010, Volume 9, Issue 1
Perhaps you're wondering: what happened to Joost Nixon, the usual host of St. Anne's Public House. Well we here in The Pub are wondering the same thing. We're now fairly certain he's been kidnapped by the aliens from the Whiskey Issue. Whether he's touring the galaxy or suffering an alien experiment we don't know. We don't know whether to fear or wonder….
When we feel passionate about something at St. Anne's we usually produce an issue on it, so this issue is devoted to the topic of monsters. Something in man's nature knows the reality of monsters in a fallen world, even when modern tools promise safety. The long running TV show Unsolved Mysteries and the never ending carnival of new low budget slasher films are signs that modern man still sleeps with monsters under his bed.
Zombies are fictions. Real monsters can be much more awe inspiring and terrifying. How aught we to understand monsters, and what part do they play in God's story?
To help us find our way through this topic we will speak with Heath Herrick, an English professor at Gonzaga University, about the horror genre in literature, and we will also talk with Rebecca Stewart, author of Here Be Monsters, published by Red Wine Press.